Facts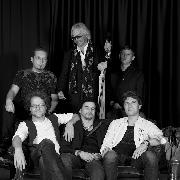 HOW MANY ROADS sound like more than just another tribute act, as the concept of their music goes beyond simply being a Dylan replica or a trip down memory lane. Often, the listener experiences the songs of rock's greatest poet in a completely new way, such as a rapped club remix of "Quinn the Eskimo" (a worldwide hit for Manfred Mann at the end of the '60s) with choral backing vocals, or "Blowin' in the Wind" set to an irresistible reggae groove with intricately arranged acoustic and electric guitars.
The band came together to celebrate Dylan's 60th Birthday back in 2001 and is touring ever since.
The members have already gathered years and years of experience in bands like:
CONTROL COMPANY, RAVENS, BLUEHOUNDS, IN JEANS, FOUR MURDERS, PILEDRIVERS, RAGS, METRÖX und PSYCHIC ATTACK
.
The Members:
Norbert Sasse: drums & vocals
Stefan Wulf: lead & rhythm`n`riff guitar
Markus Kaiser: bass & vocals
Mox R. Koch: lead vocals, harmonica & ac.guitar
Ralf Ohlig: Hammond organ, piano, melodica & vocals
Karsten Witsch: rhythm`n`riff guitar & vocals